LibraryH3lp Overview
LibraryH3lp is an integrated web chat/IM/SMS platform.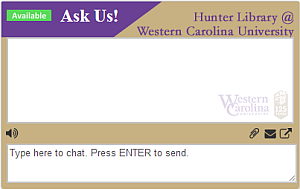 Example chat widget (Western Carolina University Library)
It allows multiple operators to receive chats from its native chat widget as well as text messages (SMS). While it routes messages to multiple operators, only the first one to respond "wins" the chat and becomes connected with the guest.
It is very mobile-device friendly. It provides a very robust SMS gateway that gives you a dedicated phone number. It allows guests to text their library using a phone number rather than a short code/keyword combination. There is a mobile-friendly chat widget, and operators can staff the service from many different mobile chat clients.
Operators in the same administrative domain can transfer any chats, IMs, or text messages to each other as needed. The system provides an administrative backend for service creation, management, and centralized transcript storage, download, and deletion.
LibraryH3lp was developed by programmer Eric Sessoms to support an after-hours chat and IM collaborative service between Duke, NCSU, and UNC-Chapel Hill. Eric is President of Nub Games, Inc., a small software company. Eric's partner, Pam Sessoms, started full-time work on LibraryH3lp in January 2012. Pam was a librarian at UNC-Chapel Hill for many years, working with virtual reference services. Developer and support guru Amy Shelton joined Nub Games, Inc., in May 2011.
Want to try it out?
Get started by registering for a free, no-risk trial at http://libraryh3lp.com/. Registration creates your top-level admin account. You will use that account to create other users, queues, widgets, IM gateways, and to generally work with the system.
---
Document URL:
http://docs.libraryh3lp.com/index.html