What do incoming SMS messages look like?
It is nice for librarians to be able to distinguish incoming text messages from regular widget chats. This way, they can compose shorter messages. We recommend creating a new queue for an SMS service since it gives librarians an indicator that an incoming chat is from a texting patron. Librarians can be assigned to multiple queues.
Text messages that were sent when your chat service was offline will be delivered the next time your SMS queue comes online, along with a note indicating how long ago the patron sent the message. Librarian replies will go out to the patron as text messages.
Beyond the queue name and the note for offline messages, the appearance of incoming SMS depends on which chat client librarians use to answer questions.
LibraryH3lp webchat client
Our native LibraryH3lp webchat client provides the most obvious alerting. Besides the queue name, you can specify a queue avatar as a visual indicator. Librarians will also see an orange character countdown when they are composing messages.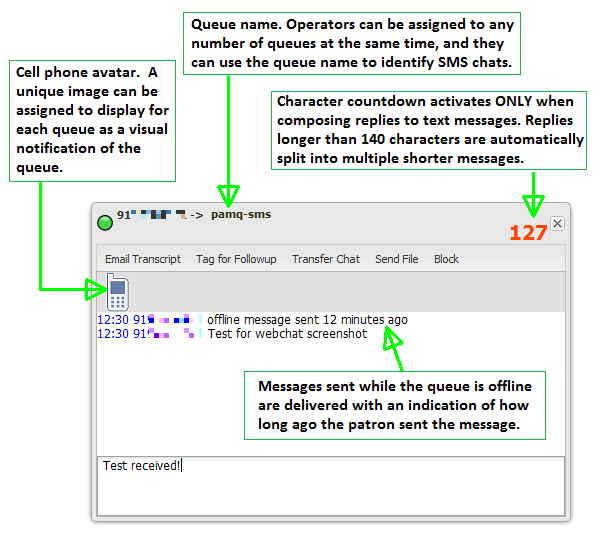 Incoming SMS in the webchat client
External chat clients
In external clients like Pidgin, Adium, and mobile clients, the queue name is the most important. Some external clients will pick up the queue avatar. The queue avatar will also be displayed on the chat management page; each chat contains a link to this page. Pidgin users can optionally install a character counter plugin, but it will show for all chats, not just SMS.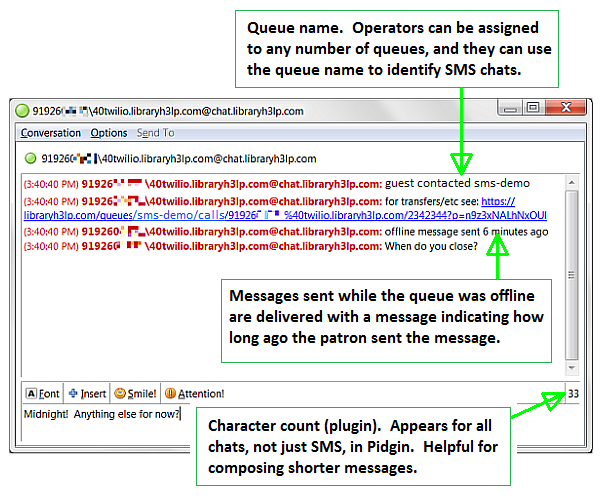 Incoming SMS in an external client (Pidgin)
---
Document URL:
https://docs.libraryh3lp.com/incoming-sms-appearance.html